Final Kitchen Reveal! Our Kitchen Remodel Is Complete!
 Hello There Beautiful… Is That Really You?
Drum roll please……..It's been 43 days, six hours, seven minutes, 3 seconds (but who's counting) since we started out kitchen remodel. With great relief and gratitude, I can finally say our kitchen is complete! I've earned my remodel wings this morning and will wear this pocket-sized badge of honor with pride. A ballerina's pirouette has an uncanny similarity to this installation. It's been a delicate dance of patience, dedication, balance and grace. I have to admit, the absence of a contractor was difficult and my graceful tactics may have wondered a bit, but the learning experience was priceless.
 Kitchen Before
 Kitchen After
The cool and calming effects of our kitchen have somehow placed all the trials and tribulations in a box, wrapped in a little red bow, far from my mind. (Except for the darn coffee pot debacle that continues to jump out of the box, from time to time.) As I walk through our kitchen I am elated with our tile selections and foyer layout. It makes a statement and reads our personalities in a desired fashion we were striving for, thanks to Troy Beasley. The decorative tiles delicate mixture of marble and stone mosaics serve as a stunning focal point. Did I mention it was fabricated in Italy? Why is it that I am naturally drawn to anything made in Italy?
 Foyer Before
Foyer After
Adding square footage was not an option, so we opted for the removal of the soffits and the installation of white countertops. The combination created a magical illusion of statuesque ceilings and a feeling of openness our little galley-style kitchen has yearned for, all these years.
Kitchen Before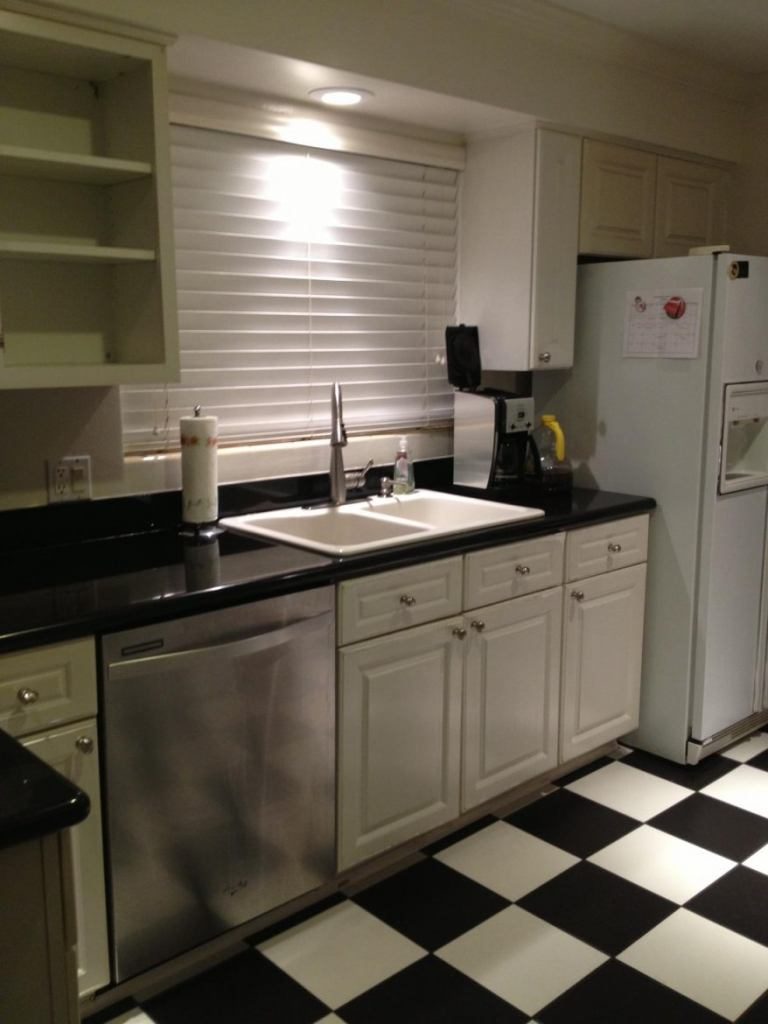 Kitchen After
The interplay of light and shadow reflects the profound depth of our iridescent glass backsplash tiles. Their reflective properties are brought to their highest level with the help of our under cabinet lighting. Their bowtie like qualities and wall space in which they lay, are a match made in heaven.
It was important for me to incorporate a pendant light into our kitchen design. This little piece of art brings a pop of color and dazzling charm to the space. The first time it was turned on I instantly fell in love!
  Finding the Lock Ness Monster has nothing on trying to find two banquets and a table to fit our small space. With that said, we asked our cabinet fabricators to custom make them. The tones and fabric choices were selected with the idea of bringing warmth to the space. I adore the idea of being able to sit and read the morning paper in a comfy, but very stylish space. The custom banquette, table and cabinetry were fabricated by JC Restorations.
I have learned a lot during this remodel. As for my next remodel I raise my right hand and swear to:
1:   Ask the cost of any tile being imported from Italy, before the order is placed.
2:   Be as specific as possible when telling my workmen what I want. Sometimes I felt as though we were speaking two different languages. Having them repeat it back to me, may not be the worst idea
3:  Be more present during the install. A lot more gets done when you are there.
4:   Remember installation costs are always more than you think.
5. Remember to practice patience.
6:  Not to make judgments until the project is finished. It was a slow process, but totally worth the wait!
7: Never make quick decisions without fully thinking it through. Design takes time and a lot of thought.
8: Think of marriage counseling before the next remodel, or have Troy Beasley continue to help us with any disagreements.
9: Be more resourceful during a remodel. Eating out 43 days in a row was tumultuous.
10: Never make coffee in my bathroom again. That was a really bad idea!
 Till We Meet Again…