Our Kitchen Remodel Part #1
Many life discussions and decisions are made in our kitchens, so was the choice to remodel ours. As we prepared our nightly grub, let me clarify "we" for a moment before continuing. By "we" I mean my husband cooking his typical aromatic far with a side of deliciousness and pure delight. I am typically an innocent bystander preparing a palatable side salad that doesn't hold a candle to his gravy ridden smothered pork chops, that come from the soul of my husband's southern charm. After this particular meal we began taking a hard look at what 20 years of cooking, raising a family and love as done to our kitchen. The paint on our cabinets have ungraciously worn away from the steam of colossal pots. Our granite countertop has a fairly large crack in it, due to a night of tamale making. Did I mention we have a tamale making machine? Our bottom molding has shown its years and the checkered board flooring and the bright yellow 50's style booth has lost its charm. It was time we stripped this kitchen of its flaws. It deeply needed a new look that would easily partake in creating new family memories.Our first step was to decide what we wanted to renovate. At first glance we thought we would just replace the cabinet doors and replace the cracked granite with a quartz countertop. Quartz was a logical choice for us knowing it's virtually maintenance free and extremely durable. The thought of new cabinet doors, freshly painted cabinets and a new countertop was quite compelling. As I closed my eyes to envision our semi-updated kitchen I couldn't help but see a large soffit that cut our kitchen cabinets nearly in half, a worn floor, outdated kitchen appliances and poor molding. Oh by the way, did I mention that I hate soffits! Why in the world would anyone cut off an 8 foot ceiling! I guess in the 50's, (when our house was originally built) they didn't feel the need for tall ceilings, large bathrooms or closet spaces. Ok, back to the renovation… The replacement of our countertops and cabinet doors would be a nice upgrade, but it wouldn't feel complete. With a lot of thought and deliberation we made the decision to "go for it". This meant taking the soffit out (yippee!), new flooring in both our kitchen and foyer, install a quartz countertop, replace the old upper cabinets with taller ones and resurfacing the lowers. We also chose to purchase all new appliances, replace doors, paint and have a banquet and table made. Wow that was a mouth full, now what?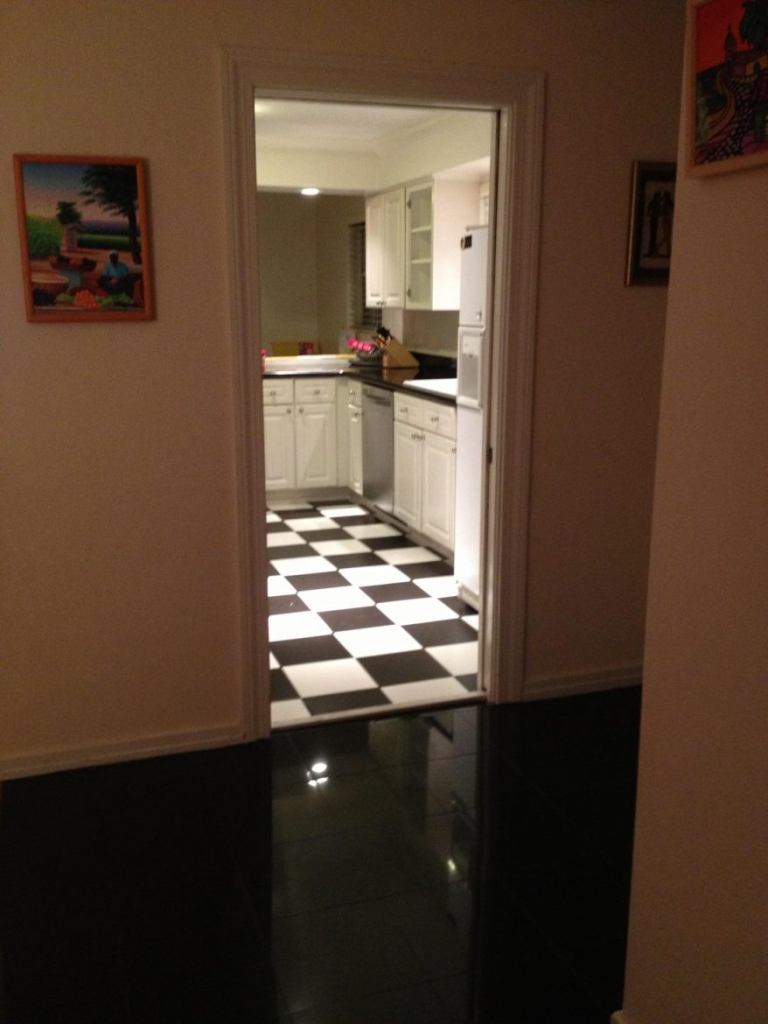 We had to pick out a color scheme. That was pretty easy for me because I have been thinking about this for quite some time. Since I had been obsessing over the multitude of shades of gray I knew I wanted a gray and white kitchen. I knew gray cabinets and flooring with a white countertop would speak a language of beauty and sophistication I understood. I knew I wanted an iridescent backsplash with a hint of color.. With the help of my friend and boss Troy Beasley we chose the cabinet color, floor tiles, countertop and backsplash together. He also guided us on grout and wall color while playing the perfect median and marriage counselor when needed. I'm pretty sure marriage counselor is not one of Troy's job descriptions, but he peacefully guided us through a few stressful moments.It's the beginning of March and everything has been ordered. I assumed the tile would all come in a month, but what I didn't realize what that the marble inlay that we chose for the foyer was being fabricated in Italy. That figures, everything I subconsciously like is made in Italy. This may take a little longer than expected.. Watching to many HGTV home improvement shows didn't help my expectations either. I thought they would come in and take out the soffit, fill in the ceiling, rewire, rip out the flooring and cabinets, resurface the flooring, place new flooring down, paint, have the new cabinets and appliances installed and hang the light fixture all in 5 days. I learned very quickly I may had been off by a few weeks, but that's how they do it on HGTV right???Let the games begin… We take everything out of the drawers, cabinets and pantry. Why in the world do we need 4 of the same size pots, 7 of the same sized ladles and 5 of the same sized measuring cups? It's killing me that I cannot throw any of these items away, but I am currently on probation (by my husband) for throwing anything away since I accidentally threw away $5000 of our vacation money two days before leaving for Key West. I'm not even allowed to throw away a broken pencil people, not even a piece of paper! I save this story for another day, back to the kitchen. The next day the work begins. During the first week the cabinets are taken out, the tile floor removed, and the under counter lighting wired. Although a heavy blanket of plastic was placed over all the door openings I can see a thin fog of plaster filtering all throughout the house. Leaving a white snowy blanket of dust on and in every piece of furniture, painting and glass vase. Everyone keeps saying "just wait for the end result it will be all worth it", so I dim the lights, squint my eyes and make believe I don't see the dust for a few more days.It's the end of day five and I am already exhausted. Keep an eye out for next week's blog for the continuation of life without a kitchen and how this process taught me how to clean coffee grinds off the ceiling of my bathroom…….